 Ready to use your Diamond Beauty Company Teeth Whitening Kit?
Follow our step-by-step instructions below to ensure you have a flawless experience!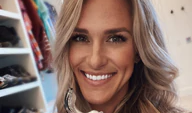 Watch our video!

1
Rinse & brush your teeth well.

2
Twist the bottom of the gold gel brush until the gel begins to flow to the brugh tip.

3
Apply gel to tooth's surface.

4
Place the mouthpiece into your mouth. Press the buttom once for a 15 minute session, twice for a 10 minute session.

5
When your whitening session is complete, the mouthpiece will beep once and shut off.

6
Remove the mouthpiece and rinse
it with water.

7
Rince your mouth with water as well.

8
Continue daily until your desired results are achieved.

9
If sensivity occurs, apply blue desensitizing gel and allow it to dry completely before applying the teeth whitening gel.